CFE Home
What's Included in the CFE?
Detailed yearly team records, bowl summaries, coaching records, team and individual award and trophy winners, top 10 listings. See summary of what is included.
Conferences and Schools Included
Introduction: A Brief History of College Football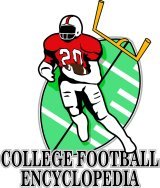 Introduction
Controversy concerning the BCS continued in 2006 when SEC champion Florida was named to face undefeated Ohio State, ranked No. 1 all season, in the BCS Championship game in Glendale, AZ on Jan. 8. Some believed Michigan, which had been undefeated and ranked No. 2 in the nation before losing its final game to Ohio State 42-39, should have had another shot at the Big 10 champs in the national title game. Florida, however, had overcame a 27-17 midseason loss to Auburn and a notably tough schedule to win the SEC title game over Arkansas 38-28 and finish the regular season ranked No. 2. The Gators left little doubt they belonged in the national championship game, whipping Ohio State 41-14 while outgaining the Buckeyes 370 yards to 82. Heisman Trophy winner Troy Smith was held to 35 yards passing and had minus 29 yards rushing for Ohio State, while Chris Leak passed for 213 yards and a TD for Florida. The overwhelming victory gave the 13-1Gators their first national championship since 1996. Ohio State (12-1) finished 2nd in both major polls.

Michigan, meanwhile, was shocked by twice-beaten Southern California in the Rose Bowl 32-18 as John David Booty passed for 391 yards and 4 touchdowns and Dwayne Jarrett had 11 pass receptions for 205 yards and 2 TDs for the winners. USC (11-2) finished with a No. 4 national ranking, while Michigan (11-2) dropped to 8th (AP) and 9th (Coaches).

There were surprises galore in the 2006 season. Not only did the highly touted Big 10 finish with a bowl record of only 2-5, but the once much-maligned Big East topped all conferences with a perfect 5-0 record and had three teams in the top 12 in the final national rankings. Champion Louisville finished 12-1 with final rankings of 6th and 7th, West Virginia was 11-2 with a final No. 10 ranking and Rutgers also finished 11-2 with a No. 12 final ranking-highest in school history. South Florida and Cincinnati were the other Big East bowl winners. Meanwhile, Wake Forest won its first ACC title since 1970, beating Georgia Tech 9-6 in the title game. And non-BCS conference member Boise State not only finished unbeaten, but upset Oklahoma 43-42 in overtime in the Fiesta Bowl to become the only Division I-A team still unbeaten after postseason play. Boise State finished 13-0 with a final national ranking of No. 5 (AP) and No. 6 (Coaches).

The Fiesta Bowl was perhaps the most exciting bowl game. Boise State overcame a 4th-quarter Oklahoma rally to tie the game on a 50-yard old-fashioned hook and ladder pass play in the final seconds, then won in overtime on another old fashioned gimmick, a statue of liberty play for a successful two-point conversion. Jared Zabransky passed for 262 yards and 3 TDs for the Broncos.

Another exciting finish was Oregon State's 39-38 win over Missouri in the Sun Bowl. The Beavers rallied for 18 points in the final quarter, capping it with a daring 2-point conversion to win the game. Matt Moore passed for 356 yards and 4 TDs for the winners.

West Virginia, playing most of the game without injured All-America running back Steve Slaton, overcame an 18-point deficit in the second half to edge Georgia Tech 38-35 in the Gator Bowl. Quarterback Patrick White, Big East Offensive Player of the Year, overcame numerous injuries of his own to lead the Mountaineers with 145 yards and a TD rushing and 131 yards and 2 TDs passing. Georgia Tech's All-America wide receiver, Calvin Johnson, had 9 pass receptions for 186 yards and 2 TDs.

Louisville beat Wake Forest 24-13 in a battle of conference champions in the Orange Bowl. Quarterback Brian Brohm passed for 311 yards for the Cardinals. Louisiana State trounced Notre Dame 41-14 in the Sugar Bowl as JaMarcus Russell passed for 332 yards and 2 TDs.

There were a pair of 17-14 bowl games, Auburn topping Nebraska in the Cotton Bowl and Wisconsin edging Arkansas in the Capital One Bowl. Wisconsin finished 12-1 with a national rankings of 5th (Coaches) and 7th (AP). Auburn finished 11-2 with national rankings of 8th (coaches) and 9th (AP).

A remarkable bowl comback was Texas Tech's 44-41 overtime win over Minnesota in the Insight Bowl. The Red Raiders outscored Minnesota 24-0 in the 4th quarter to tie the game, then won with a touchdown in overtime. Graham Harrell passed for 445 yards and 2 TDs for the winners.

National Coach of the Year awards went to Jim Grobe of Wake Forest and Greg Schiano of Rutgers, who brought once downtrodden programs to national prominence in 2006.

Ohio State quarterback Troy Smith won the Heisman Trophy easily, and also won the Walter Camp Award and Davey O'Brien Award. Notre Dame quarterback Brady Quinn won both the Maxwell Award and the Johnny Unitas Award.

Other top award winners were:
Joe Thomas, Wisconsin, Outland Trophy for interior lineman.
Defensive end LaMarr Woodley of Michigan, Lombardi Award as top lineman.
Dan Mozes, West Virginia, Rimington Award for center.
Darren McFadden, Arkansas, Doak Walker Award for running back.
Wide receiver Calvin Johnson, Georgia Tech, Fred Biletnikoff Award for receivers.
Paul Posluszny, Penn State, Chuck Bednarik Award for defensive player.
Aaron Ross, Texas, Jim Thorpe Award for defensive back.
Matt Spaeth, Minnesota, John Mackey Award for tight end.
Art Carmody, Louisville, Lou Groza Award for placekicker.
Daniel Sepulveda, Baylor, Ray Guy Award for punter.

College Football Fans
The history of college football bowl games, including records, facts and anecdotes, can be found in Bowl Games: College Football's Greatest Tradition by Robert M. Ours, noted on this page with links to Amazon.com, Barnes & Noble, and publisher Westholme Publishing.
The College Football Encyclopedia published in hardback and paperback in 1994 with CD-ROM updates through 2002, is no longer available except through used copies and second-hand bookstore outlets. The Encyclopedia, compiled by Dr. Ours, includes records through the 2001 season, with year-by-year scores of every game played by the 93 teams listed, star players yearly, conference titles won, bowl records, coaching records, top 25 national rankings, highest scores for and against, consensus All-Americans, Academic All-Americans, and much more.
Also included are introductions to each of 9 major conferences, plus independents, including information on when the conference was formed, national championship teams and major individual award winners from that conference, plus anecdotal material involving members of the conference.
More than 1,000 photos of past stars, representing each school listed, are included in the Encyclopedia.
A special Appendix lists annual major individual award winners since 1935, team national champions since 1936, top coaching records, and team and individual single-season leaders in more than 20 categories.

History of College Football Bowl Games now available!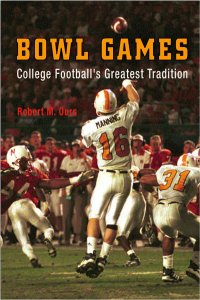 By Robert M. Ours, the first thorough history of bowl games has been published by Westholme Publishing. It includes year-by-year bowl game summaries, a complete list of NCAA-sanctioned bowls played, bowl records, and much more.
For more information, see:
Westholme Publishing
Amazon.com
Barnes & Noble
---
"In Bowl Games: College Football's Greatest Tradition, author and historian Robert M. Ours provides a complete history of bowl games . . . . included are game highlights, scores, attendance figures and rationale for the birth and demise of new bowl games throughout the years. . . . the book serves as an outstanding reference for collegiate football collectors, . . . (and) is resplendent with period photographs."
(Gridiron Greats, Winter 2005)
---

"Bowl Games is the first work to focus solely and comprehensively on the history of college bowl games . . . Organized chronologically, the book presents information in both chapter and tabular format . . . The author writes well . . . The tabular data is easy to follow and contains the teams, records, results, and attendance for each bowl contest from 1902 to 2004. Also included are lists of overall team bowl records, bowl game performance records, and other useful data. This is a book for comprehensive sports reference collections."
(Choice, April 2005)


---